Jojo and Nube Characters Join J-Stars Victory Vs. Game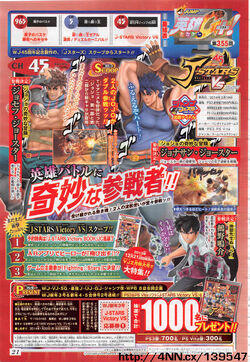 Hironobu Kageyama, Akira Kushida, Hiroshi Kitadani sing fighting game's theme "Fighting Stars"
The third 2014 issue of Shueisha's Weekly Shonen Jump magazine is announcing on Monday that characters from the JoJo's Bizarre Adventure and Jigoku Sensei Nube manga are joining the lineup of Namco Bandai Games' J-Stars Victory Vs. "team battle action" video game.
Jonathan Joestar and his grandson Joseph Joestar from Hirohiko Araki's JoJo's Bizarre Adventure manga will both be playable characters. In addition, Meisuke "Nuubee" Nueno, the teacher with a demon hand from Sho Makura and Takeshi Okano's Jigoku Sensei Nube manga, will be a playable character.
Hironobu Kageyama, Akira Kushida, and Hiroshi Kitadani are singing the game's theme song "Fighting Stars." People who pre-order the game will receive the J-Stars Victory Book, a volume bound like a Jump Comics book and filled with information and visuals of Jump heroes over the years. A free augmented-reality (AR) app lets you see the Jump heroes in your surroundings on the PS Vita.