JoJo's Bizarre Adventure: All Star Battle League (ジョジョの奇妙な冒険 オールスターバトルリーグ, JoJo no Kimyō na Bōken Ōru Sutā Batoru Rīgu) is a competition consisting of a series of live stream broadcasts to promote JoJo's Bizarre Adventure: All Star Battle. It was announced on June 9, 2013 with the fifth trailer of the PS3 game.
The event was hosted by Bandai Namco producer Noriaki Nino, CyberConnect2 producer Hiroshi Matsuyama, and comedian Kendo Kobayashi and was set up as a tournament between computer controlled characters. In August 7, 2013, due Kobayashi's absence, Yōji Ueda, Robert E. O. Speedwagon's Voice actor, temporary replaced Kobayashi's role.
The tournament was split up into two portions: a preliminary round of 6 randomly selected groups, and a final round consisting of the winners of the preliminaries and the cheer campaign. The A special PlayStation 3 theme featuring DIO and his Stand The World was made available afterwards to commemorate the winner.[1]
Cheer Campaign
Preceding the tournament, a poll was cast allowing people around the world to cheer for a particular character. The votes were totaled to decide which characters could skip straight to the finals.
Rules for Cheer Campaign
On the official site, fans select a character from the selection located on the right.
After selecting their choice, fans will need to click the twitter button located to the left to tweet a message link. (Will need to be logged onto Twitter to do this.)
Only one vote per person is counted each day.
The top 3 characters are automatically placed in the finals.
Cheer Campaign Final Results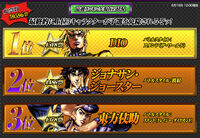 Preliminary Stage
The preliminary matches placed the remaining characters into 7 groups labeled A through G. Groups A-F had 4-5 contestants each, with the top two moving onto the finals, while Group G included a "revived" fan favorite and had only one winner. The 13 preliminary winners and 3 cheer campaign winners (total of 16) moved onto the finals.
July 3rd
Group
Participants
Footage
Winners

Group A

Johnny Joestar (1st)
Bruno Bucciarati (2nd)

Group B

Caesar Zeppeli (1st)
Jotaro Kujo (2nd)
July 7th
Group
Participants
Footage
Winners

Group C

Rohan Kishibe (1st)
Yoshikage Kira (2nd)

Group D

Koichi Hirose (1st)
Jolyne Cujoh (2nd)
July 17th
Group
Participants
Footage
Winners

Group E

Narancia Ghirga (1st)
Josuke Higashikata (Jojolion) (2nd)

Group F
August 7th
This group's competition was announced with the sixth trailer of this game.
| Group | Participants | Footage | Winners |
| --- | --- | --- | --- |
| Group G | | | |
Final Stage
Round 1 (August 14)
Round 2 (August 21)
Semi Final (August 21)
Jotaro Kujo vs Koichi Hirose
---
Caesar Anthonio Zeppeli vs DIO
Final (August 28)
Jotaro Kujo vs DIO
Trailer
References
Official Website
:
http://www.bandaigames.channel.or.jp/list/asb/lg/
Videos and Stages Chart: http://mirror.bandaigames.channel.or.jp/list/asb/lg/match.html
Events
Exhibitions
Fashion Collaborations
Other Events
Official Tournaments
Community content is available under
CC-BY-SA
unless otherwise noted.