"
What a pain... (

やれやれだぜ

Yare Yare Daze)
"

—Jotaro Kujo
Jotaro Kujo (空条 承太郎 , Kūjō Jōtarō) is the protagonist of Stardust Crusaders. He appears prominently in Diamond is Unbreakable, briefly in Vento Aureo, and again in a key role in Stone Ocean. Jotaro is the third and most recurring JoJo of the JoJo's Bizarre Adventure series.
Jotaro is a biracial (half-Japanese) delinquent who lives an ordinary life until the Joestar Family's old enemy, DIO, returns. Seeing his mother Holy falling ill because of DIO, and heeding his grandfather Joseph Joestar's call, Jotaro travels to Egypt in order to save his mother and stop the Vampire once and for all.
Wielding the incredibly powerful Star Platinum, Jotaro is the first JoJo introduced with a Stand, and is among the most well-known characters of the series.
Appearance
Jotaro is canonically established as a tall (195 cm/6'5"), attractive, and well-built man, even as a teenager. He has dark hair that constantly blends with his hat, a strong jaw, bold eyebrows, and green eyes. He also bears a mild resemblance to his great-great-grandfather, Jonathan Joestar, and his grandfather, Joseph Joestar when he was young.
The superficial theme of Jotaro's attire changes in each part. His trademarks are a visored, ornamented cap, torn at the back and blending with his hair, and a roughly mid-calf-length coat with a standing collar and chains attached. His attire was influenced by Babel IIW, a famous manga of a boy in a gakuran having an adventure in a desert.[10]
Jotaro wears a modified trenchcoat-length gakuran/tsume-eriW with a tall, stiff collar, pierced on the left with a golden chain. Underneath, he wears a fitted, sleeveless shirt and a pair of slim-fitting ¥20,000[11] pants of very short, sharp flares held up by two thin belts, often differently colored, patterned in a row of alternately colored tessellated triangles (reflecting Caesar/Joseph's headband). He also wears a pair of leather shoes (presumably) without socks. 
Jotaro's iconic cap is adorned near the center with a golden button and, on its left, a rectangular golden plate with a design of a flattened hand. It is torn at the back, appearing to merge with his hair. While they are first shown as being completely separate but slightly torn, later publications cause more uncertainty as to where his hat and his hair actually meet. According to Araki in an interview, he wanted readers to recognize Jotaro even from his back, and not just his forefront.[12]
Color Schemes
The series is known for alternating colors between media, the information presented below may or may not be canon.
| | | |
| --- | --- | --- |
| | Hair | (Black with blue highlights) |
| | |
| --- | --- |
| | Outfit |
| | (Blue gakuran and hat over a purple shirt, with golden chain and pins. Green/yellow and red/yellow belts) |
The anime marks a shift in Jotaro's portrayal in promotional materials as most media featuring Jotaro post-anime will portray him with his anime colors.
| | |
| --- | --- |
| | Outfit |
| | (Black gakuran and hat over a green shirt, with golden chain and pins. Green/red and red/yellow belts) |
| | | |
| --- | --- | --- |
| | Hair | (Black with blue highlights) |
| | |
| --- | --- |
| | Outfit |
| | (Purple-trimmed blue gakuran and hat over a red shirt, with bronze chain and purple pins. Green and yellow belts) |
Jotaro's outfit undergoes a few transitions during this arc. Each features his trademark combination of a visored cap and a trench coat. He wears wide-legged pants, and his hat, coat and pants are typically depicted as white.
In his first outfit, he wears a trench coat with the collar folded back and cuffs that feature the same tessellated pattern as his belts. Underneath the coat is a jumper of sorts over a stiff high-collared shirt; a buckled strap also runs diagonally across his chest. His hat has a metallic "J" emblem added to his earlier palm, now enclosed by a heart.
His second outfit, first worn during the Let's Go "Hunting"! story arc, features a style reminiscent of his school uniform with an upturned coat collar and a single fitted shirt. His hat's emblems are replaced with a dolphin and sun, while his coat features a metallic emblem of two dolphins forming a heart on the right shoulder and a set squareW with the trademark palm symbol on the left.
His final outfit features a coat with a similar style to the second outfit, but has the tessellated cuffs that were present in the first. Underneath, Jotaro wears a small, open, lapel-less waistcoat patterned with alternating circles and crosses over a black turtleneck with the palm emblem on the neck. His hat has a row of black Venus symbols (♀) with an arrow at the bottom of the cross, that way, making them resemble anchors, along with another palm emblem. His two belts are no longer patterned, but the bottom has a small pouch attached to it.
Color Schemes
The series is known for alternating colors between media, the information presented below may or may not be canon.
| | |
| --- | --- |
| | Outfit |
| | (Generally white outfit and hat over a white shirt (later black), with golden pins. Light purple/yellow sleeves and brown/yellow belts) |
| | |
| --- | --- |
| | First Outfit |
| | (White outfit and hat over a purple shirt with green collars, with golden pins. Light purple/yellow sleeves. Purple/green and purple/yellow belts) |
| | |
| --- | --- |
| | Second Outfit |
| | (White outfit and hat over a pink shirt, with orange pins. Pink sleeves and purple/yellow belt. Brown and green backpack) |
| | |
| --- | --- |
| | Third Outfit |
| | (White outfit and hat over a black turtleneck shirt, with gold pins. Light purple/yellow sleeves and purple/yellow belts) |
Jotaro again wears a dark overcoat; this time of more detail. Lines ring the top and the base of his collar; joining to run the length of the coat's opening. The surface of his collar bears two star pins, with one on the inside, along with a small chain piercing the left. Two lines run the top of the shoulders, with two more radiating from his collar to their sides. Two zips lie between the chest and the stomach. The sides of the shoulders bear large stars, beginning a light stripe reaching his cuffs (also bearing a star) that reads "JOJO", repeatedly. A line runs from the armpit to the end of the coat. 
He wears a light under-shirt, printed at the chest with a large star. His shoes and pants are of a piece in a snakeskin texture. He wears a single leather belt, studded in two rows, folded behind itself after the buckle.
Jotaro's torn, blending cap is also again dark. The visor is square, with a subtle arch. A light gold bar at its joint maintains a gold palm emblem like his original. Two lines run the top of the visor, while a widened star spans the front of the crown, its topmost point running onto the top.
Color Schemes
The series is known for alternating colors between media, the information presented below may or may not be canon.
| | | |
| --- | --- | --- |
| | Hair | (Black with purple highlights) |
| | |
| --- | --- |
| | Outfit |
| | (Purple and gold-trimmed coat over a white shirt. Green and gold stars throughout his outfit and brown pants) |
Personality
Stardust Crusaders
"
I beat the crap out of more people than I have to. Some are still in the hospital. There's plenty of teachers that got on my bad side and never came back to class. And, hey, I make it a policy not to pay if I don't like a meal. But even a guy like me can spot evil when he sees it!
"

—Jotaro to Noriaki Kakyoin
Jotaro is introduced as a rough delinquent, but he has a gentle heart, and is loyal to those he likes. He is highly perceptive, intelligent and quick-witted while keeping a perpetually cool, slightly neutral or disinterested attitude.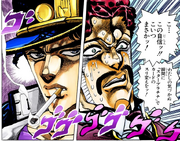 Jotaro's most noticeable trait is his seemingly aloof nature. He is a quiet individual, often satisfied with expressing himself in short phrases. His bio explains that he thinks anyone can tell his emotions just by looking at him, and probably thinks further effort in portraying how he feels to be a waste of time, making others tend to perceive Jotaro as callous.[6] Related to this, Jotaro is an extremely cool individual, able to keep his composure in even the direst situations. The best example of his coolness would be against Daniel J. D'Arby, playing a dangerous game of poker during which he successfully bluffs the expert poker player into folding even if he didn't know what cards he had and wagered the souls of every companion and ally involved.[13] While he was shown to be mildly anxious when something unanticipated happens, Jotaro almost never goes as far as to lose his cool.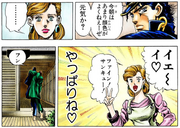 Jotaro is both fierce and gentle, showing these traits in various scenes, from the fight with N'Doul, to the encounter with the D'Arbys. One shining example is how he spared Noriaki Kakyoin instead of killing him outright, even putting his own life on the line just to save the young man from DIO's deadly slavery. Despite refusing to show it explicitly, Jotaro loves his mother and respects his grandfather Joseph. Jotaro's impetus for going to Egypt is Holy's life being put in danger by DIO's Stand,[14] and he flew into an uncharacteristic rage when the vampire desecrated the corpse of his grandfather, before apologizing to Joseph's spirit (who had previously warned Jotaro not to succumb to anger).[15]
During his journey to Egypt, Jotaro attached himself to his companions, and through several small gestures expressed his friendship towards them, culminating with a hug with a departing Polnareff.[16] Signs of him loosening up were also shown where he occasionally (but not often) smiles, such as when the group made fun of ZZ, and at one point he even laughs alongside Kakyoin and Polnareff upon discovering the Sun's weakness.[17] Jotaro also has a soft spot for children and is noticeably more tolerant and protective toward them. When Anne accompanies them on his journey, he never yells at her and even protects her from enemy Stand Users, and also watches over her in a similar fashion to an older brother despite being visibly annoyed by her antics. When he takes an ice pop from a young boy, he tells the boy that he will buy him a new one.[18]
Jotaro hates people who hurt women or children in a fight, even if the woman or child in question is evil, and will be especially violent toward them;[19][20] one example of this is his beating of Steely Dan, which was partially motivated by Steely Dan killing Enya the Hag, and trying to use a little girl as a hostage when he was nearly defeated. However, Jotaro doesn't show mercy to evil women and will if need be severely beat them, such as when Midler attacked it and he busted her teeth through her Stand.[21] Furthermore, nagging girls chasing him (both at his school and throughout his journey) annoy Jotaro, who ignores or rudely drives them away, particularly when they begin to fuss or bicker.[22]
Moreover, Jotaro is blunt and foul-mouthed, having no problem being insolent towards his mother or any other authority figure.[23] The teenager favors witty one-liners, often ridiculing whoever is the target of his quips and offering absurd reasons for his feats. For instance, he took the time to tell DIO the reason he lost was that the vampire "pissed him off".[24] Whether Jotaro does take himself seriously or is just having fun when using his one-liners is left unanswered. Nonetheless, Jotaro has shown a modicum of respect to the occasional enemy Stand User, praising N'Doul for having been formidable enough to manage to knock his hat off his head and commit suicide to help DIO, then listening to his speech about his devotion and finally burying his corpse in the desert.[25] Moreover, he noted how Daniel J. D'Arby was dangerous and compared him favorably to Telence, stating that Daniel would have spotted an obvious ploy which tricked Telence.[26]
Jotaro is interested in a large range of subjects, such as sumo or the TV series Columbo, from which he claims to have acquired his deductive skills.[27] Several hobbies indicate that he has an intellectual side, which would result in him becoming a marine biologist by part 4. Ironically, Jotaro is one of the few who can appreciate Calcutta's atmosphere, which shocks Joseph.
Jotaro also has a quirky, particular fashion taste and attachment to his clothes, from refusing to cut off parts of his pants when the school nurse asked him to, to buying clothes[20] to replace the ones that were destroyed after his fight with ZZ with exact replicas as pointed out by Joseph.[28] When he first trades blows with DIO, he specifically points out how the fight tore a hole in his pants, whose high price is openly noted.[29] He also has an attachment to his hat.
Jotaro has a habit of muttering "What a pain..." (やれやれ, Yare Yare) to himself to express annoyance toward the ordeals and other events that happen close to him, to the point it has become one of his catchphrases.
Diamond is Unbreakable
Jotaro is positioned during this story as a role model, leader or teacher. Koichi and Josuke comment that his company is calming to them, with respect to the consistent threat exerted by emerging Stand users. Having matured, Jotaro isn't as foul-mouthed as he was, although he is still blunt and retains his annoyance towards girls making a fuss.
Although his aloofness is still present, it has diminished somewhat over the years; meeting Tomoko Higashikata whilst looking for Josuke shortly after her father is killed by Anjuro, he tolerates her sudden clinginess when she mistakes him for Joseph, and offers some consolation for her father's death. He also admits to Koichi that he was glad to meet him, albeit privately.
Stone Ocean
In Part 6, Jotaro displays his typical serious attitude, but this is also paired with a passionate paternal protectiveness for his daughter Jolyne, although his past neglect has worsened their relationship. Another instance of his diminished stoic attitude, he tells his daughter that he loves and cherishes her, which would motivate Jolyne throughout their adventure.
After he is "revived", Anasui, one of Jolyne's companions who is enthralled by her, asks Jotaro to approve his proposal to marry. Reacting first as though he spoke meaninglessly, when Jotaro sees Jolyne lean against Anasui's chest, he pulls her into his arms, protectively; leaving Jolyne clueless as to their interaction.
During the final fight against Pucci, Jotaro's love for his family got the best of him, and he made the mistake of trying to both save Jolyne and kill Pucci, succeeding in neither and resulting in his death.
Abilities
Stand
Main article: Star Platinum
One of the strongest Stands in the series, Star Platinum possesses superhuman senses, strength, stamina, accuracy and speed. Like other physically-powerful (or Close-Range) Stands, Star Platinum suffers from a narrow range of activity; active only within a 2-3 meter radius from Jotaro.
It is similar to DIO's The World, and, as it turns out, can likewise be used to stop time, an ability revealed at the very end of his fight with DIO.
The Tarot card The Star, after which it is named, symbolizes hope, above all.
Star Platinum: The World
Main article: Star Platinum: The World
This evolved version of Star Platinum appears near the end of Stone Ocean.
This is the highest form to which Jotaro is shown to develop his Stand. SP:TW can stop time for as long as 5 seconds. It is stated that it can freeze time for longer, but 5 seconds is the limit for human endurance under stopped time.
Mastery
Jotaro is extremely proficient at using his Stand, which is facilitated by how powerful it is in the first place. The student is capable of exploiting the basic abilities of a Stand to channel Star Platinum inside his body for better protection or only conjure a part of it for stealth. He is also imaginative in using its physical prowess, using it to punch through obstacles at its most basic, but also stretch it for extra range, lift heavy objects, or more ridiculous ideas like using Star Platinum's lungs to neutralize Justice.
Since he lacks the stamina, Jotaro only stops time with parsimony. He mainly uses it for defense, using the extra time to defend an ally or avoid attacks, and has only occasionally used timestop for offense.
Personal
Intelligence: Jotaro is an adept tactician, using a mix of straightforward brute force and unexpected tricks to prevail. Thanks to Star Platinum tremendous strength in all regards, Jotaro can either force his way out of any tough situation or use unexpected feats of strength such as tunneling his way toward an enemy or using his lung capacity to neutralize a fog Stand. Jotaro has occasionally used the environment to his advantage, filling his clothes with thick books when expecting DIO to use projectiles against him, or taking full advantage of The Fool's glider to approach N'Doul.
The years have only increased his wits, and in Part 4 and 6, Jotaro demonstrates a methodical and vigilant sense of observation, watching his environment to anticipate the enemy's moves and attacks, and having a good grasp of the general mechanics of Stands to better identify a Stand's weaknesses.
Jotaro is a good trickster although not on the level of Joseph. He is an accomplished bluffer, and use the enemy's own vigilance against the formidable Star Platinum to psych them out, forcing D'Arby to fold in a game of poker he had all but won or tricking DIO into underestimating Star Platinum's ability to move in the stopped time. He also provoked Forever into entering the range of Star Platinum to defeat him.
Knowledge: It is implied that Jotaro has accumulated a considerable amount of varied knowledge. At the beginning of Part 3, in his cell, in order to understand his Stand, he had collected a number of books on the theme of the paranormal. In Part 4, it is revealed that he specialized in marine biologyW; and he briefs Josuke skilfully for the task of hunting two Stand-wielding rats.
Strength: While not nearing the levels of superhuman strength possessed by his Stand, Jotaro himself is still notably strong, and has been for a long time; even when de-aged by Sethan, he was able to deliver a painful punch against a full-grown man.
Toughness: Jotaro is naturally confident and intolerant to suggestions that he should defer in any way, backed up by his own strength as well as that of his Stand.
Cigarette Trick: Jotaro is supposedly able to hold up to five lit cigarettes in his mouth, lit side inwards, and drink juice without putting them out. Oingo failed to replicate this technique. However, this trick could be false.
Bluffing: During both the Telence T. D'Arby and Daniel J. D'Arby arcs, Jotaro won through an impressive ability to bluff, as seen by his refusal to look at his cards when playing poker with D'Arby the Elder, and having the confidence to rely on Joseph Joestar to pick up on his signal by announcing his pitch against D'Arby the Younger.
Secret Technique
The Joestar family's "Secret Technique", running away, is usually utilized as a last resort. It is used by Jotaro in the series during his fight against Rubber Soul.[30]
Chapters / Episodes
Manga Appearances
Chapters in order of appearance
Anime Appearances
Episodes in order of appearance
Quotes
Quotes
"
What a pain... (

やれやれだぜ

Yare Yare Daze)
"
| | | |
| --- | --- | --- |
| " | You gotta carve out your own path in life. | " |
| | | |
| --- | --- | --- |
| " | Impossible? We did a lot of impossible things on this journey. I'm tired of hearing that things are impossible or useless. Those words mean nothing to us. | " |
| | | |
| --- | --- | --- |
| " | Next time we meet, I'm gonna land a thousand strikes on that face of yours. | " |
| | | |
| --- | --- | --- |
| " | But the Kujo family... No. The Joestar family has its own philosophy when it comes to fighting. I have just one strategy left. That's... to run away! | " |
| | | |
| --- | --- | --- |
| " | You sure said all the crap you wanted to back there. I'm the type that takes such things to heart. | " |
| | | |
| --- | --- | --- |
| " | Even a guy like me can smell the stench of evil from miles away! | " |
| | | |
| --- | --- | --- |
| " | I'm the kind of guy who keeps a grudge if someone screws with me. | " |
| | | |
| --- | --- | --- |
| " | It's hard to see who you really are from your own perspective... | " |
| | | |
| --- | --- | --- |
| " | You're such a joke I can't even think of anything to say to you. | " |
| | | |
| --- | --- | --- |
| " | It's not cheating if you don't get caught. | " |
| | | |
| --- | --- | --- |
| " | This isn't enough... I'm still not angry enough! | " |
| | | |
| --- | --- | --- |
| " | I don't have any pity. Not for you. | " |
| | | |
| --- | --- | --- |
| " | You can't pay back what you owe with money! ORAORAORAORAORAORA! Here's your receipt. | " |
| | | |
| --- | --- | --- |
| " | There's only one reason you lost... just one simple reason. You pissed me off. | " |
Quotes
| | | |
| --- | --- | --- |
| " | You reap what you sow. | " |
| | | |
| --- | --- | --- |
| " | Humans are basically creatures who destroy so they may live, but you've got the gentlest ability of them all. | " |
| | | |
| --- | --- | --- |
| " | Once a life ends, it never comes back... | " |
| | | |
| --- | --- | --- |
| " | Focus on staying calm before you worry about speed. | " |
| | | |
| --- | --- | --- |
| " | Nice watch. Too bad you won't be able to tell the time on it after I break it... Break your face, that is. | " |
| | | |
| --- | --- | --- |
| " | Good grief, now that I can see it up close, your watch looks like crap. But you won't have to worry about that. After all, I'm about to make it look even worse. Your face, that is. | " |
| | | |
| --- | --- | --- |
| " | You did well to fight this long on your own... I'm impressed. | " |
| | | |
| --- | --- | --- |
| " | Go on, say something to him... Give him a snappy one-liner! | " |
| | | |
| --- | --- | --- |
| " | True observation means seeing with your mind, not your eyes... to listen with your heart, not your ears... | " |
| | | |
| --- | --- | --- |
| " | It just does whatever it wants... meaning this creature is no longer fit to live on Earth. | " |
Quotes
| | | |
| --- | --- | --- |
| " | Really getting through to someone is an amazing thing, but sometimes there's a little leftover mess. That mess is called resentment. | " |
| | | |
| --- | --- | --- |
| " | I've always cherished you... | " |
| | | |
| --- | --- | --- |
| " | It's too short! Stopping time for five seconds isn't enough... | " |
| | | |
| --- | --- | --- |
| " | You're not making any sense... Are you insane? | " |
| | | |
| --- | --- | --- |
| " | I was one move... too late...! | " |
References
↑ Chapter 634: Savage Garden Strategy (Head for the Courtyard!) (1)
↑ 2.0 2.1 2.2 Chapter 114: Jotaro Kujo (1)
↑ 3.0 3.1 Chapter 266: Jotaro Kujo! Meets Josuke Higashikata (1)
↑ JOJOVELLER - STANDS, p.9
↑ SO Chapter 154: Made in Heaven (6) p.13
↑ Chapter 117: The Man with the Star
↑ SO Volume 1: Prisoner FE40536: Jolyne Cujoh p.1
↑ Chapter 256: DIO's World (10) p.9
↑ Chapter 216: "D'Arby the Gambler, Part 6"
↑ Chapter 121: "The Power Called a 'Stand'"
↑ Chapter 262: "DIO's World, Part 16"
↑ Chapter 265: "The Faraway Journey, Farewell Friends"
↑ Chapter 167: "Sun, Part 2"
↑ Chapter 138: "Yellow Temperance, Part 3"
↑ Chapter 165: "Lovers, Part 6"
↑ 20.0 20.1 Chapter 119: "Noriaki Kakyoin, Part 2"
↑ Chapter 182: "High Priestess, Part 4"
↑ Chapter 118: "Noriaki Kakyoin, Part 1"
↑ Chapter 114: "Jotaro Kujo, Part 1"
↑ Chapter 264: "DIO's World, Part 18"
↑ Chapter 188: "'The Fool' Iggy and 'God Geb' N'Doul, Part 6"
↑ Chapter 237: "D'Arby the Player, Part 11"
↑ Chapter 159: "Justice, Part 6"
↑ Chapter 154: "Justice, Part 1"
↑ Chapter 256: "DIO's World, Part 10"
↑ Chapter 138: Yellow Temperance (4)
Contents
Illustrations
Part 3: Stardust Crusaders
Part 4: Diamond is Unbreakable
Part 5: Vento Aureo
Part 6: Stone Ocean
Games