Boba Fett Returns - The Loop
Play Sound
SPOILER WARNING: Part 1-8 Spoiler details may follow.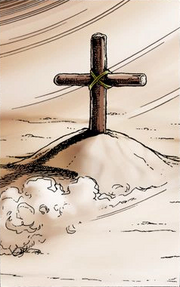 JoJo's Bizarre Adventure is often noted for the amount of casualties and fatalities that occurs throughout the series. The following is a comprehensive list of the deceased (either physically or mentally) from Phantom Blood through the ongoing JoJolion, as well as any other JoJo-related media.
Please note that this list consists primarily of canonical deaths; the deaths of characters from one-shots or light novels not written by Hirohiko Araki listed below may or may not be considered canon.
| Character | Image | Cause of Death | Source |
| --- | --- | --- | --- |
Darnley

Died in an explosion caused by reasons unknown to history. His death was used as an excuse for Mary's execution, as Elizabeth blamed her for his death.

Chapter 27




Episode 5


(Appears in flashback(s))
Executioner

When executing Bruford, the knight's long hair somehow entangled the executioner's feet and pushed into his flesh, killing him.

Chapter 27




Episode 5


(Mentioned only)
Will's Father

Becomes a vampire from the Stone Mask and brutally kills everyone in his archaeology group aside from his son. When he begins to go in pursuit of his son in desire of more blood, he is killed by the light from the morning sun.

Chapter 20




Episode 4


(Appears in flashback(s))
Mary Joestar

Dies in a carriage accident twelve years before the start of Phantom Blood in 1868, as the carriage slips off the cliff due to the rain.

Chapter 1




Episode 1


(Appears in flashback(s))
Dario Brando

On his deathbed at the start of the story due to being poisoned by his son, Dio Brando. He dies in 1880, and his grave is spit on by Dio.

Chapter 1




Episode 1
Vagrants

Killed when Dio puts the Stone Mask on one's face and then pushes him into stabbing his partner. The mask turns the man into a vampire but he soon disintegrates in the sunlight when attempting to suck Dio's blood.

#1:

Chapter 9




Episode 2


#2:

Chapter 10




Episode 2
Inspector

His head is torn off by Dio after the latter becomes a vampire. All of the other police officers are then killed as well.

Chapter 12




Episode 3
| | | | |
| --- | --- | --- | --- |
| Police Zombie | | He places his palm on Speedwagon's face in an attempt to suck his blood but is interrupted by Jonathan who pokes his head with a spear. Subsequently, Jonathan decapitates the zombie, killing him. | Chapter 14 |
Jack the Ripper's Date

One late evening, Jack and his date are in Whitechapel district. The girl starts talking about Jack the Ripper (unaware of her date being the serial killer). Jack then reveals his identity and kills her by slicing her neck with a knife.

Chapter 18




Episode 2
Zombie Knights

Zeppeli uses his own version of Sunlight Yellow Overdrive to karate chop one of them in the face, simultaneously killing three more when the body is sent flying into the zombies behind it. Speedwagon crushes one in the head using his sledgehammer. Jonathan decapitates the final one with Zoom Punch.

Chapter 25




Episode 5
Bruford (Zombie)

Defeated by Jonathan. The Ripple sent to him "frees his soul" allowing him to feel human again. He loses his hatred towards the world and is thankful for his chance to meet the honorable Jonathan. Moments before he disintegrates from the Ripple, Bruford gives Jonathan his sword, Luck and Pluck.

Chapter 30




Episode 6
| | | | |
| --- | --- | --- | --- |
| Poco's Bullies | | Tarkus grabs the two bullies by their feet. He crushes them with his grip and wrings them together like laundry until their flesh comes off, drinking their blood as it lands in his mouth. | Chapter 31 |
Will Anthonio Zeppeli

Allows his body to be sliced in half by the chains of Tarkus, so that Jonathan could be free and defeat him. He is able to transfer his remaining Ripple energy to Jonathan before dying. Due to Tonpetty's prediction of his death, Will was fully aware of it, and for this motive he dies without regret.

Chapter 35




Episode 7
Doobie

Led to a quick death after Jonathan catches his snakes and charges them with the Ripple. Doobie's snakes betray their master and bite him, causing the Ripple to be injected throughout his body.

Chapter 37




Episode 8
Dire

Faces Dio, only to be frozen by the latter's powers. He is then shattered into pieces, but shoots a Ripple infused rose at Dio as a head before being completely frozen and destroyed.

Chapter 38




Episode 8
Father Styx

Tries opening Dio's coffin, which activates the security mechanism on it. The gem above the lock shoots out and fires straight into Styx's face, causing his head to explode.

Chapter 42




Episode 9
Wang Chan

Destroyed by Jonathan, who uses the last of his strength to crush Wang Chan's head and send a Ripple throughout his body. The impact from the attack sends Wang Chan's headless body flying into the ship's machinery, causing the ship to explode.

Chapter 43




Episode 9
| Character | Image | Cause of Death | Source |
| --- | --- | --- | --- |
Superior Officer Zombie

One of many who served Dio Brando, and is disguised as a major squad leader in the British Air Force for several decades. After he kills George Joestar II, Lisa Lisa avenges her husband by killing the zombie with the Ripple.

Chapter 108




Episode 24


(Appears in flashback(s))
Mario Zeppeli

Becomes absorbed into the wall at the site where the Pillar Men were discovered. He was saving a boy who activated a trap from the Pillar Men by touching an embedded diamond in the wall. Spears thrust out of the wall but Mario pushes the boy out of the way and gets pierced in the process, unaware that he just saved his own son, Caesar Zeppeli. The spears then pull Mario into the wall, where he is to be eaten by the Pillar Men.

Chapter 89




Episode 20


(Appears in flashback(s))
SPW Plane Hijackers

Joseph knocks out the pilot of the plane these men hijacked with the Ripple so that the plane would crash. Joseph then saves the pilot, Speedwagon and himself by ejecting out of the plane. The hijackers presumably die when the plane crashes.

Chapter 46




Episode 10
Straizo

Kills himself in his battle with Joseph Joestar by overloading his own vampire body with the Ripple. He states that he wanted "to taste youth and go to Hell rather than age pathetically like an old man and go to Heaven", and also reveals seeing Santana almost awaken.

Chapter 52




Episode 11
Santana's Body Host

Santana slides out of the vent near the officer and dives into his head through his eyes. Santana enlarges within the man's body causing it to swell up immensely. He later tears himself out of the man's body when it is no longer of any use to him.

Chapter 57




Episode 12
Nazi Officer

His hands are fused together with the hands of all the other Nazis by Wamuu. Wamuu then touches the officer's head and drains the life force of everyone at the same time.

Chapter 64




Episode 14
Mark

Killed a week before his marriage when Wamuu passes by him, which devours half of his body. He dies peacefully when Caesar dulls the pain at his request.

Chapter 66




Episode 14
Loggins

Killed by Esidisi when the latter impales the former with his foot. Posthumously, Loggins' body is used by Esidisi to demonstrate his ability, heating the corpse until it boils and simmers from the inside-out.

Chapter 76




Episode 17
Esidisi

Evaporates from sunlight exposure after being forced out of Suzi Q's body by Joseph and Caesar's Ripple. Prior to this, Joseph destroyed his body during their battle and reduced him to a brain, thus forcing him to possess Suzi Q before truly dying.

Chapter 82




Episode 18
Caesar Anthonio Zeppeli

Ultimately defeated by Wamuu due to his overconfidence in close combat. He uses the last ounce of his strength to take Wamuu's lip piercing that contains the antidote to the ring that Wamuu placed on Joseph's heart. He loops his headband through the ring and encases it in a bubble of blood held together by his Ripple, just before being crushed by a slab from the ceiling.

Chapter 92




Episode 20
Wamuu

Faces death after being worn down by Joseph's Ripple attacks, with the finishing blow being Caesar's headband causing his body to explode. After being reduced to a head, Joseph gives him some of his own blood to ease the pain. Wamuu uses the last of his strength to destroy a group of vampires who were attempting to kill Joseph before he disintegrates into dust.

Chapter 104




Episode 23
Kars

Attempts to kill Joseph with the Ripple, which he previously demonstrated when attacking Joseph's knee. However, Joseph reflexively held up the Red Stone of Aja, causing Kars' attack to collide with the stone and unleash a surge of energy deep into the earth powerful enough to jump-start a volcano which shoots Kars into space. Kars attempts to return, but the cold vacuum of space freezes his entire body before he could change course. Incapable of dying, he floated around space helplessly until he desired death, ultimately ceasing thought. While still physically alive, Kars is classified as brain-dead.

Chapter 113




Episode 26
| Character | Image | Cause of Death | Source |
| --- | --- | --- | --- |
Caravan Serai

He creates the sword which the Stand Anubis is bound with around the 1480s. After he dies, Anubis is left without a user and begins to search for users on its own.

Chapter 198




SC Episode 29


(Mentioned only)
Gray Fly

He dies after Kakyoin destroys his Stand. However, he manages to kill the plane's pilots before dying and taunts the group that they'll never get to DIO.

Chapter 124




SC Episode 4
J. Geil

He's stabbed to death by Polnareff's Silver Chariot as revenge for raping and murdering his sister. After stabbing J. Geil's tongue and tossing him into the air, his body is left hanging upside down by a gate. In the OVA, he is instead punched into a barbed fence.

Chapter 145




SC Episode 11
Manga Artist

He takes an interest to Boingo's "comic" and foresees his own death within the pages. Soon, he is thrown out of the bus onto a utility pole and killed from his neck being impaled on it, just as Tohth predicted.

Chapter 189




SC Episode 26
Chibi and Buchi

Chibi and Buchi are two dogs that find the gate to DIO's mansion and try to get in so that they could eat Pet Shop. However, Pet Shop decapitates the two dogs and pulls their bodies under the gate. The owner of the dogs finds their dead remains being eaten by Pet Shop.

Chapter 222




SC Episode 38
Pet Shop

He dies when Iggy bites his beak shut as he is charging an ice attack from his mouth. His beak shatters, but not before letting the sheer energy stored explode his head.

Chapter 226




SC Episode 39
Muhammad Avdol

He is thought to have died after protecting Polnareff from Hol Horse's attack and being stabbed by Hanged Man. However, Avdol rises again to save Polnareff by defeating Cameo as it is revealed that instead of killing him, Hol Horse's bullet only skimmed his forehead which rendered him unconscious. His second and actual death is at the hands of Vanilla Ice. After Avdol pushes Polnareff and Iggy away from a surprise attack, his body is erased by Vanilla Ice's Stand, Cream. In the OVA, Avdol is killed and vaporised by Vanilla Ice.

Chapter 239




SC Episode 42
Iggy

He, after losing his foot during his fight with Pet Shop, sacrifices himself to save Polnareff in the fight against Vanilla Ice. He is kicked multiple times by Vanilla Ice, causing internal bleeding and multiple bones to break. Despite Polnareff warning Iggy not to rescue him because his wounds would worsen, he summons The Fool in order to grab Polnareff and dies from extreme over-exhaustion. In the OVA, Iggy's lower body is erased by Cream and he is kicked to death by Vanilla Ice.

Chapter 244




SC Episode 44
Vanilla Ice

He cuts his head off to prove his loyalty to DIO. However, he is brought back to life with DIO's blood and gradually turns into a vampire, although he is unaware of it. Polnareff taunts him into running into the sunlight of an open window, before having Silver Chariot push him completely into it, disintegrating him. In the OVA, Vanilla Ice is simply stabbed multiple times by Silver Chariot before getting the upper half of his head sliced clean off.

First death:


Chapter 238




SC Episode 42


Second death:


Chapter 245




SC Episode 44
Wilson Phillips

He, after being tortured by DIO and having his teeth ripped out, is killed in a car crash caused by DIO, shortly after being forced to run over and kill countless innocent people on the streets of Cairo.

Chapter 252




SC Episode 45
Noriaki Kakyoin

He confronts DIO on his own and is defeated by The World, having been punched straight through the abdomen in a counterattack. Running away from home, his parents never knew where or how he died. His death was not in vain, as he was able to figure out the ability of DIO's Stand. Using the last of his strength, Hierophant Green destroyed a nearby clock tower in order to tell Joseph and the others about The World's ability to stop time.

Chapter 254




SC Episode 46
DIO

He kicks Jotaro with The World after being countered with a Time Stop by Jotaro and Star Platinum. However, Star Platinum's fist connects with The World's leg, shattering the Stand and DIO with it. The resulting force and impact causes DIO's head and right arm to explode. What is left of the body is then brought to the Speedwagon Foundation and the blood is used to revive Joseph, after which his corpse (which technically is Jonathan Joestar's) is left in the desert to disintegrate by the morning sun.

Chapter 264




SC Episode 48
| Character | Image | Cause of Death | Source |
| --- | --- | --- | --- |
Keicho Nijimura

He is killed by Red Hot Chili Pepper after taking an attack from the Stand to protect his brother, Okuyasu. He is electrocuted and then pulled through an electrical outlet, as his corpse lies fried on the wires of a utility pole. In the live-action movie adaptation, Keicho is killed by Sheer Heart Attack.

Chapter 283




DU Episode 5
Shigekiyo Yangu

He explodes from Kira's Killer Queen after mistaking Kira's lunch bag for his own and seeing the disembodied hand contained within it. An individual Harvest survived long enough to enter Josuke and Okuyasu's classroom, leaving behind a button from Kira's suit as evidence. However, it exploded as soon it found them.

Chapter 346




DU Episode 22
Kosaku Kawajiri

He's found dead in the beauty salon Cinderella with a patch of his face and hair ripped off along with his eyeballs gouged out. He was killed by Kira so that Kira could swap identities with him and live a quiet life, without being pursued by Josuke and the others.

Chapter 364




DU Episode 24
Satoru Nakae

He, with his girlfriend Minako, is stalked by Kira to their apartment after the boyfriend kept aggravating Kira. When the boyfriend tells Minako that he is going to buy her a new pair of earrings, Kira blows him up instantly with Killer Queen.

Chapter 410




DU Episode 34
Minako Okura

Kira forces Minako to cut his fingernails. Just before blowing her up, he takes her boyfriend's ears and hangs them on her own, telling her that her boyfriend had left some earrings behind for her. He then takes her hand to be his new "girlfriend", but is forced to destroy it after seeing Hayato Kawajiri leave the scene with a camera.

Chapter 410




DU Episode 34
Masazo Kinoto

His entire back is peeled off by his Stand Cheap Trick when Rohan tricks him into exposing his back, due to extreme curiosity of what the man was hiding. However, the parasitic Stand latches onto Rohan's back afterwards.

Chapter 413




DU Episode 33
Cheap Trick

He's deceived by Rohan to face backwards in the ghost alley. It is torn off his back by ghostly hands and dragged into the afterlife. As this happens, Rohan uses Heaven's Door to command Cheap Trick to go to Hell (although whether or not Hell exists is unknown even to Rohan himself).

Chapter 417




DU Episode 34
Yoshihiro Kira

He originally dies before the events of Part 4 due to cancer. In the final battle, Josuke baits Kira into detonating a bomb right next to Yoshihiro's photograph. Thus, he ceases to exist after the photo burns up.

Chapter 433




DU Episode 38
Arnold is Reimi's guard dog whose throat is slashed by Yoshikage Kira on August 13, 1983. Kira then hangs the dog's body on a clothes hook in the wall. He remains as a ghost in an alley until his soul ascends to Heaven after Kira is dragged away by the ghost hands.
Reimi Sugimoto is murdered by Yoshikage Kira along with her parents and her dog sixteen years before the events of Diamond is Unbreakable, on August 13, 1983. She finds Arnold's corpse and realizes her parents were killed, so Reimi saves Rohan by letting him escape by the window while she receives a deep cut in the back and dies. She remains as a ghost in an alley until her soul finally ascends to Heaven after Kira is dragged away by the ghost hands.
Episode 16: At a Confessional
An Asian Beggar is crushed by a large bag of corn when he is forced to carry it after begging a man for food. He later becomes a vengeful spirit and haunts the man, assisting the man's prosperity from behind the scenes so that he could fulfill his vow of taking the man's life at his happiest moment.
The Servant of the Man at the Confessional has plastic surgery so that he looks like his master, and is subsequently beheaded by the vengeful spirit of the Asian beggar who was deceived by his appearance.
Episode 2: Mutsu-kabe Hill
Gunpei Kamafusa has a fight with Naoko Osato after she tries to break up with him. He is subsequently pushed towards a golf club, which is stuck at the back of Gunpei's head with the impact, instantly killing him. Even though all signs of life had left his body, he seemed to be "continuously dying". It is later revealed Gunpei was possessed by the yokai Mutsukabezaka, which happiest moment happens when it dies in front of someone and only purpose is leaving descendants.
Yamashita is murdered by Anjuro Katagiri in his own home with his wife tied up beside him. Anjuro murdered him by stabbing him in the neck with a fork and flees the apartment when Ryohei Higashikata and the police break into the room.
Masaya Yoshizawa and Hirata are by a fountain when Aqua Necklace attacks Hirata by entering his mouth and rupturing his internal organs. Aqua Necklace then enters Masaya's body and takes control of him, causing him to become a robber of a convenience store. He takes a woman hostage but Josuke punches a hole through the both of them with Crazy Diamond. The two are both immediately healed, but Crazy Diamond also infused Masaya's knife into his stomach. Aqua Necklace exits his body as Anjuro has no use for him anymore.
Unnamed Characters
The Natural Resources Workers enter a Meteor Crater in Cape York, Greenland in 1978 and two of them die within 48 hours, after their bodies are covered in tumor-like blisters. It is discovered that a group of bacteria arrived on the meteorites lying within the volcano which entered the bloodstream of the two men from their wounds. Despite being in a deep coma before dying, one of the men produces a spark in his body which burns off one of the doctor's fingers.
Diavolo's mother dies in the fire of the Sardinian village.
Diavolo's stepfather dies in the fire of the Sardinian village.
Bucciarati's father bears witness to a surprise drug deal and receives seven gunshots that nearly kills him. He is saved by a coast guard ship that was passing by and is taken to the hospital. The gangsters attempt to kill him while he's unconscious in the hospital, but the twelve year old Bruno murders them all. Unfortunately, his father dies from complications related to his wounds five years later.
The drug dealers are three gangsters who shoot Bucciarati's father for stumbling upon their drug deal. They are murdered by Bruno Bucciarati, who was protecting his father after their attempt to assassinate him in the hospital.
Abbacchio's partner saves Abbacchio's life by jumping in front of a bullet when a criminal shoots at him. Abbacchio had hesitated to shoot the criminal because he had met him before and let him go free during a prostitution incident. However, the event haunts Abbacchio with guilt for the rest of his life.
Scolippi's girlfriend committed suicide by jumping off the roof. Her suicide was predicted by Rolling Stones, however the difficult-to-understand ability of Scolippi's Stand made it look like he was the one who killed her. Her father stated she's not the kind of girl who would kill herself, and became determined to avenge her.
The old janitor feels guilty when he accidentally extinguishes the flame on Polpo's lighter with a bucket of water. Feeling that it was important to Giorno, he reignites the flame. As a result, Black Sabbath rips his soul out and stabs it in the head with an arrow, killing him but with no external wounds displayed on his body.
The Sardinian fortune teller pries too much into Doppio's past, so Diavolo intervenes and forces him to divine the whereabouts of Risotto Nero. Diavolo then kills the fortune teller by impaling him with King Crimson's hand.
Two drunks are the first shown victim of Green Day's mold when one of them tries to urinate in a fountain down a set of stairs.
Unnamed Characters
Funny's father is tortured to death during war. Before dying, he always kept the handkerchief with his son's date of birth on it and tasks his friend, Captain Valentine, to give it to his family after his death.
Ringo's father is imprisoned for abandoning his duties and eventually dies of disease.
Ringo's mother is stabbed to death when Ringo is 10 years old. The killer is a man who used to be in the army and sneaks into their house while Ringo is asleep.
Ringo's two sisters are also killed by the man who enters their house at night.
The potato-eating man attempts to rape the 10-year-old Ringo after killing his mother and two sisters. The man licks Ringo's cheek and starts to strip his own clothes off, but Ringo manages to grab his gun. After some hesitation and trembling from Ringo, the man tries strangling him and is shot from point-blank range through his mouth.
The Cavalry's 26th Squad (excluding Mountain Tim) dies inside Devil's Palm in Arizona's desert due to dehydration.
The beautiful prisoner appears during Gyro's apprenticeship as an executioner. She is condemned to death for poisoning and killing many families and children. On her way to the execution grounds, she bites off two fingers from one of the guards, and then bites off Gyro's collar hanger with his family's honorable crest because he hesitated to stop her. After Gyro calms her down with a Steel Ball, it is inferred that she is successfully executed.
Diego's wife is poisoned to death six months after her marriage to Diego Brando so that he could have her inheritance, as she was a rich eighty-year-old woman.
Funny Valentine's Aides are both killed by Lucy Steel. One of them is constantly getting injured on his left eye due to Lucy's Stand ability, and eventually a guard walks in with a shotgun and accidentally gets stabbed by the injection needle. He ends up pulling the trigger, and one of the aides is shot straight in the left eye and killed. The other one tries to catch Lucy, but eventually falls and impales his eye on the door handle.
Diego's Fans are a group of women who interfere during the final stage of the Steel Ball Run race when the alternate Diego Brando stops in the middle of a street. They don't hesitate to swarm him and hug him, unaware that Diego is using them as meat shields. When Tusk ACT 4 strikes from below the ground, it kills two women by mistake.
Unnamed Characters
Other Works/Media
(The information below derives from works and media not written by Araki. As such, it may or may not be considered canon.)

SPOILER WARNING: Part 1-8 Spoiler details may follow.
Gallery