This Wiki includes spoilers of an unpredictable spread throughout articles – Please proceed with caution!
Welcome to JoJo's Bizarre Wiki,
a fan Wiki dedicated to JoJo's Bizarre Adventure
written and illustrated by Hirohiko Araki.
JoJo's Bizarre Adventure, often shortened to JoJo or JJBA, is a shōnen and seinen manga. It follows the journeys of the Joestar family members across generations.
Our goal is to create a reference for all official material related to this ongoing series.
Anyone can edit, so any help in doing so is greatly appreciated!
JoJo News!
| | |
| --- | --- |
| 02/15/2019 | Jump Force releases worldwide on PS4/X1/PC, featuring Jotaro and DIO as playable characters. |
Featured Article
Featured Videos
Blog Feed
I was the first to translate Jotaro's name or not, I just got the phrase "Tarot Woman". I think this means that his stand is named after the * Star * tarot card, and his desire to protect his own woman (mother and daughter).And it also seems to me that if Jotaro becomes a woman (in the universe fro…
Help Needed!
Proofread articles by fixing any typos or grammatical errors that you find!
Add images to lacking galleries or articles.
Help us with adding quotes and color schemes for characters using the templates in Useful Templates.
Feel free to assess our List of articles that need support, not forgetting our skim-able Manual of Style!
Community Links
Official JoJo Sites
Affiliates
If you would like to become an affiliate, please contact the administrators
April 2021 Poll
Poll Results
By 571 (32.48% of) votes,
the winner of the October 2019 Poll
for Favorite time-related Stand? is:
Killer Queen Bites the Dust.
Killer Queen is the Stand of Yoshikage Kira. Its power is to create several kinds of bombs. Its special technique Bites the Dust allows it to turn a witness into a trap bomb, which will kill anyone investigating him and then rewind time.
Runner-up: King Crimson (433 (24.63%) of votes); The World (305 (17.35%) of votes). The poll was created at 12:31 on October 3, 2019, and 1578 people voted.
April Calendar
Latest Releases
July 19, 2019JP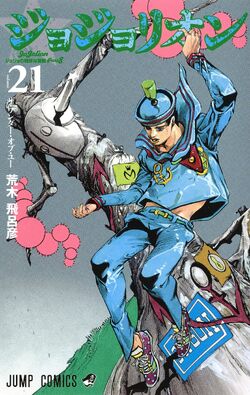 JoJolion Volume 21 (125):
The Wonder of You
(ザ・ワンダー・オブ・ュー, Za Wandā Obu Yū)
Ch. 83 - 86
July 28, 2019JP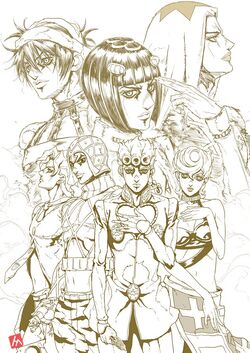 Finale of JoJo's Bizarre Adventure: Golden Wind
(ジョジョの奇妙な冒険 黄金の風, JoJo no Kimyō na Bōken Ōgon no Kaze)
Anime
November 13, 2019JP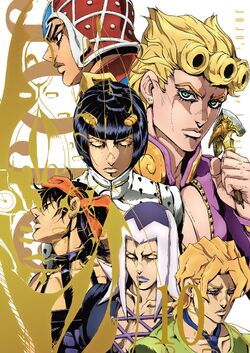 Golden Wind: Volume 10
Episodes: 37 - 39
Upcoming Anime Highlights
Community content is available under
CC-BY-SA
unless otherwise noted.