SOUL'd OUT was a Japanese hip-hop band who were active from 1999 to 2014. They performed "VOODOO KINGDOM", the theme song to the JoJo's Bizarre Adventure: Phantom Blood animated movie.
The group's members were Main MC Diggy-MO', Human Beatbox and MC Bro.Hi, and Trackmaster Shinnosuke. The band parted ways in 2014, with Shinnosuke's desire to leave the group for personal reasons as one of the main reasons behind their breakup.[1]
Biography
This section requires expansion.
Work with Araki
The band's members were big fans of JoJo's Bizarre Adventure[2], with Shinnosuke in particular citing Hirohiko Araki as an artistic influence. Their love of the series shows up in their music videos and lyrics, with the song "Magenta Magenta" even referencing Aja. For the band's 12th single "Catwalk", Araki drew the cover artwork, portraying the three band members as women with heads resembling Killer Queen's.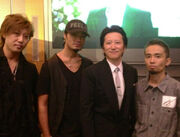 The following year, the song "VOODOO KINGDOM" off of SOUL'd OUT's 14th single was chosen to be the theme song for the JoJo's Bizarre Adventure: Phantom Blood film.
Two of SOUL'd OUT's song titles were referenced for characters in Steel Ball Run: "Magenta Magenta" was used as inspiration for the name of Magent Magent and "Wekapipo" (ウェカピポ) inspired the name of Wekapipo.[3]
Relevant discography
#

Cover
Single Name
Artist
Use
Release Date
1
Wekapipo (

ウェカピポ

)
SOUL'd OUT
Name of Wekapipo
January 22, 2003
6
Magenta Magenta
SOUL'd OUT
Name of Magent Magent
July 14, 2004
12
Catwalk
SOUL'd OUT
N/A (Art by Hirohiko Araki)
April 26, 2006
14
GROWN KIDZ / VOODOO KINGDOM
SOUL'd OUT
Phantom Blood movie
February 21, 2007
Trivia
A note from Araki within 'SBR Chapter 40: "Silent Way, Part 1"' mentions that the screentone

W

found on Gyro's top was worked on by Shinnosuke.
References
See also
Music
Original songs
Licensed ending themes
TV anime soundtracks
OVA soundtracks
Film soundtracks
Video game soundtracks
Music Artists
Community content is available under
CC-BY-SA
unless otherwise noted.