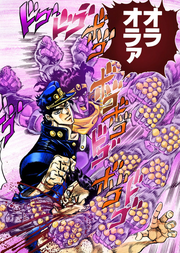 A number of
Stands
and/or their users make a battle cry while executing their basic mode of offense; informally described as a
Stand Cry
.
The cry is suggested or depicted as being made in a similar rhythm and intensity with the attack of the Stand, which is usually very rapid, strong, and unbroken.
The Stand Cry is among the trademarks of JoJo's Bizarre Adventure, as many central Stand users have one.
The Stand or Users usually scream their stand cry their Stand or themselves doing a barrage like Jotaro when become young by Alessi.
There are some Stands do barrage but doesn't scream their Stand Cry but make noise instead when doing barrage like The Grateful Dead, Man in the Mirror or The Hand.
Origin
It is presumed that the Stand Cry originated from Fist of the North StarFW; in which protagonist KenshiroFW (in a style after film star Bruce LeeW) typically throws very rapid punches while crying "ATATATATATATATA ... OWATTA!".
The most popular and common cry, "ORA ... !", originates from noises in progressive rock songs that Araki liked, like from Pink Floyd's Dark Side of the Moon, which he wrote down phonetically. Meanwhile DIO and Giorno's cry, "MUDA ... !", is the Japanese word for "useless" while the "Wryyy"s come from noises Araki heard in Horror movies, like Psycho. Others come from English and Italian.
Earlier in the series, in a style common to action-oriented manga, certain characters would scream the names of their attacks (including Jonathan Joestar, Joseph Joestar and Dio Brando); so it is possible that the Stand Cry follows from this.
Examples
Community content is available under
CC-BY-SA
unless otherwise noted.