Jurassic World: Dominion Dominates Fandom Wikis - The Loop
Play Sound
Vampires (吸血鬼, Kyūketsuki) are undead creatures featured in JoJo's Bizarre Adventure. Many vampires serve as antagonists in the first three parts, with their bloodlust to drink blood and become stronger.
With DIO, the last known Vampire, being defeated by Jotaro Kujo, Vampires have not appeared in any part since Stardust Crusaders, possibly making them extinct.
Origin
Vampires were created by the Pillar Men with acupuncture techniques that they developed through the use of the Stone Mask. The purpose of the vampires were to become food for the Pillar Men and to explore human potential. This would then lead the Pillar Men to discover the Red Stone of Aja, which can be combined with the Stone Mask to make them perfect, granting them immunity to sunlight and allowing them to rewrite their DNA.
Vampires can be created in two ways. One way is to wear the Stone Mask while exposing it to blood. The other way is for a vampire to give a corpse some of their own blood. According to the dynamics of the arts of the Ripple and Will Anthonio Zeppeli, all living beings on Earth bear energy from the sun, but vampires are considered beings whose natural "flow" of energy has been reversed and perverted. As such, the Ripple was created to fight off vampires, and its process allows users to return this "flow" back to normal and revive the souls of vampires for a last moment before their death.
Vampires
Legend of Symbols 
★: The character is leader
(✩: Subsequent leader / ✦: Leader of their own faction within the group)
†: The character is deceased and passed on to the afterlife
(👻: The character remains as a soul or ghost)
☮: The character has resigned
⚓: The character retired (incapacitated) and/or their fate is unknown

Zombies
Main article: Zombie
A secondary undead, created by a vampire who dons the Stone Mask, is commonly referred in part I and II as a Zombie (屍生人, Zonbi, lit. "Undead Person"); "Undead" (亡者, Andeddo, lit. "the deceased") is also sometimes used.
Powers and Abilities
Vampires are known for their battle cry "WRY" (ウリイ, Uri) and numerous superhuman traits. The most obvious abilities are their raw strength, regeneration, blood-sucking tentacles at their fingers and near-immortality. On top of that, many vampires are capable of manipulating their bodies in creative and unique ways. Some as skilled as Dio have created their own unique abilities.
It is heavily implied that vampires progress in their control of their anatomy through blood consumption, and may be the explanation behind Dio showing more impressive feats of regeneration and durability than someone such as Straizo.
Abilities discovered by Dio Brando
Other Abilities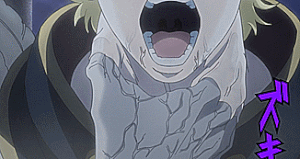 Differences with Popular Culture Vampires
Gallery
References