Weekly Shōnen Jump Jikkyō Janjan Stadium (週刊少年ジャンプ 実況ジャンジャンスタジアム, Shūkan Shōnen Janpu Jikkyō Janjan Sutajiamu) is a free mobile game for Android and iOS developed by KonamiW.
The game released on August 2, 2018.
It is a crossover of various characters from Weekly Shōnen Jump for the magazine's 50th anniversary. Characters from 39 works appeared in the game at launch, but more were added sequentially following release. There are currently 54 playable characters.
Gameplay
Jump Stadium allows up to four players to fight in a battle royale using characters portrayed in a chibi style. Players can either attack, jump, or perform a strong special technique (SP moves) with simple one-button controls.
The game will also have a "Live Broadcasting System," among other features, that enhances the match's sense of realism.
Characters
Playable Characters (54)
1970s
1980s
1990s
2000s
2010s
Gallery
Trailer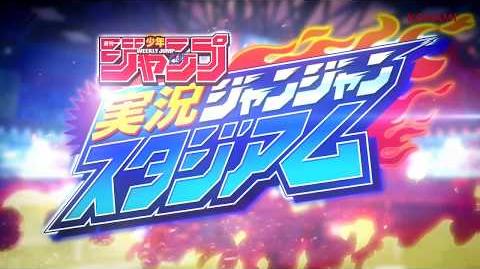 References
Games
JoJo video games
Jump video games

Weekly Shōnen Jump Jikkyō Janjan Stadium

Other games
Community content is available under
CC-BY-SA
unless otherwise noted.