Yukiyoshi Shikiji (式地幸喜, Shikiji Yukiyoshi) is a Japanese animator credited for his work on the TV adaptation of JoJo's Bizarre Adventure by David Production. His contributions as a key artist in JoJo's Bizarre Adventure: Stardust Crusaders, including it's promotional video, have been consequential.[1]
Originating from Anime Aru Studio, Shikiji has participated in various series as a key animator or animation director. His work on the Symphogear series in particular promoted him to the role of "main animator". He's currently active with SatelightW.[2]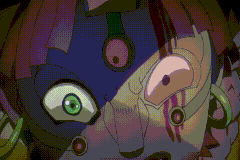 JoJo's Bizarre Adventure: Stardust Crusaders

2nd Key Animation (ep 13)
Key Animation (eps 1, 3, 5, 6, 8-9, 11-12, 14-15, 18-19, 21, 23-24, 26, 29, 33)
Gallery
KEY ANIMATION (ORIGINAL PICTURE 原画)
References
↑

Jojo's Bizarre Adventure AAA: Animation Artworks Archive
People
David Production
Animators & Other Animation Staff
Voice Actors
Musicians
Community content is available under
CC-BY-SA
unless otherwise noted.